The Nest: A Welcoming Entrance
Update: we're clicking along and wrapping up final inspections for the unsexy stuff.  Our porch fireplace has been installed and we're getting ready to brick up the surround and mantel. Cottage-y siding is being replaced where needed and nice new windows are sitting in the upstairs dormers.
It's all about the front door right now. We've happily settled on a gorgeous color and we're finalizing the actual door design. And even though we have a little cardinal rule to not stray from our plans (Change order! Cha-ching!), we're re-thinking our little front door overhang. Our plans call for a very traditional rounded pediment which works great with The Nest's 1920s style. But we've never been jumping up and down about that look – so we're doing some research on alternatives.  If we find something we like, we may do a change "in the field."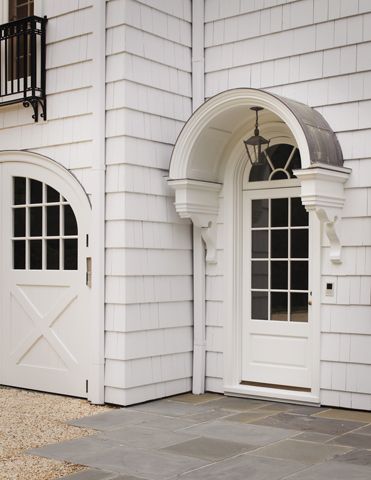 This is the style of overhang that is specified on our plans. We've always liked it but wonder if there's something else we could do. From Pinterest.
We've got a couple of non-negotiables for the front door overhang: It has to be cute and cottage-y and it has to be warm, welcoming and friendly.
It hasn't taken long to find plenty of inspiration:
 This is a front door to die for.  Atlanta Homes and Lifestyles.
Front door perfection.  From Pinterest and Tone on Tone.
 Another adorable cottage-y front door and overhang. (Atlanta Homes and Lifestyles)
We started thinking about something a little less traditional but still steeped in The Nest's Nantucket-Buckhead vibe. Maybe iron? Copper?
Copper and painted wood: two key elements for The Nest. From Pinterest and Homebunch.)
I've always loved this adorable little overhang. But would all our guests and packages get soaking wet? (From Pinterest and RutlandDesign.)
Now, this is interesting: metal, curved, cottage-y. (from Pinterest and Things That Inspire.)
Hmmmm, getting warmer.  Simple but interesting and oozing with plenty of charm.  (Pinterest and Things That Inspire.)
I love this! From Pinterest and Garden Requisites.
We've got room for our Bevelo gas lantern and I'm planning on having a couple gorgeous planters on either side of the front door and under the overhang. Boxwoods and hydrangeas galore!
Copper lanterns are the icing on the cake. Pinterest and Things That Inspire
Nothing says "welcome home" than gorgeous, overflowing planters. From Pinterest and Southern Hospitality.
So, we're adding this to the growing list of decisions that need to be checked off the list. Regardless of what we go with, we're pretty sure The Nest will say "welcome" in the nicest way.  Stay tuned…
Meet Meg: Co-owner of Huff Harrington Home and Huff Harrington Fine Art. Certified project junkie and lover of fine furnishings and décor (especially the happy marriage between crunchy antiques and modern art).  Loves all the Frenchy stuff—as well as food, wine, books, fireplaces and long quiet afternoons by the pool. She's married to Scott and has two daughters, Molly and Lily.